If you are staying at one of the two conference hotels (Sheraton or Marriott) both offer parking for an extra daily fee.
If you are a daily commuter, you can park in any of the parking lots shown on the map. All of these lots are less than a mile from the MassMutual Center. The I-91 South Garage (#4), located at 1870 E. Columbus Ave., is probably the most convenient place to park–easy on/off for I-91, 2-3 blocks away. Anyone physically able would get in a few daily steps and thus save closer spaces for others.
NOTE that, unfortunately, the multi-level garage, located close to the MassMutual Center and available at previous conferences, has been dismantled and will NOT be rebuilt in time for our conference.
Accessible parking is available directly across Bruce Landon Way from the MassMutual Center. For more details about handicapped parking and drop off spots contact Pam Roberts by email at [email protected]. The MassMutual Center also offers convenient drop-off and pick-up areas for guests, taxis and limousines located along Bruce Landon Way.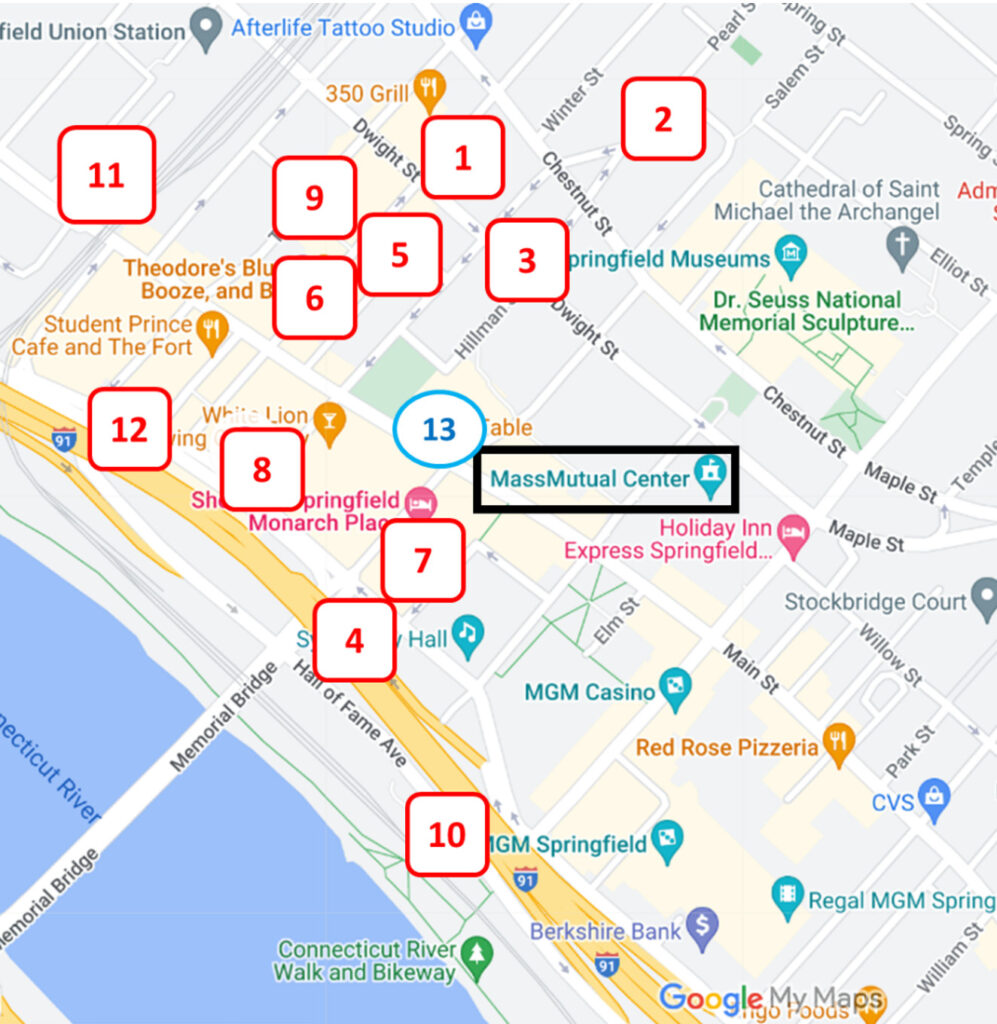 Map ID
Parking Lot
Address
Walking Distance
Comments
1
Dwight St Lot
339 Worthington St.
0.2 mi (5 min)
2
Apremont Triangle Lot
33Pearl St.
0.3 mi (6 min)
3
Hillman Lot
292 Hillman St
0.3 mi (6 min)
4
I-91 South Garage
1870 E. Columbus Ave.
0.3 mi (6 min)
5
Worthington St. Lot (Propark)
215 Worthington St.
0.3 mi (7 min)
6
Taylor Street Garage
33 Taylor St
0.4 mi (7 min)
7
Tower Square Garage / Marriott Hotel
1739-1765 E. Columbus Ave
0.4 mi (8 min)
$20 if staying at the hotel; hourly rates up to $40/day
8
Sheraton Hotel Garage aka Columbus Center Garage
99-1 Columbus Center
0.4 mi (8 min)
$19.99 if staying at the hotel
9
Morgan Square Lot
12-22 Taylor St.
0.5 mi (9 min)
10
Riverfront Lot
1557 West Columbus Avenue
0.5 mi (9 min)
11
Union Station Garage
1755 Main Street
0.6 mi (11 min)
12
I-91 North Garage
1870 E. Columbus Ave.
0.9 mi (9 min)
13
East Court Lot
22 Bruce Landon Way
344 ft (1 min)
Accessible Parking ONLY Contact Pam Roberts at

[email protected]

for details.
An interactive map of downtown Springfield with the parking lots managed by the Springfield Parking Authority can be found at: https://springfieldparkingauthority.com/maps/.
Please note, this information is current as of December 2022 and availability may change at any time.