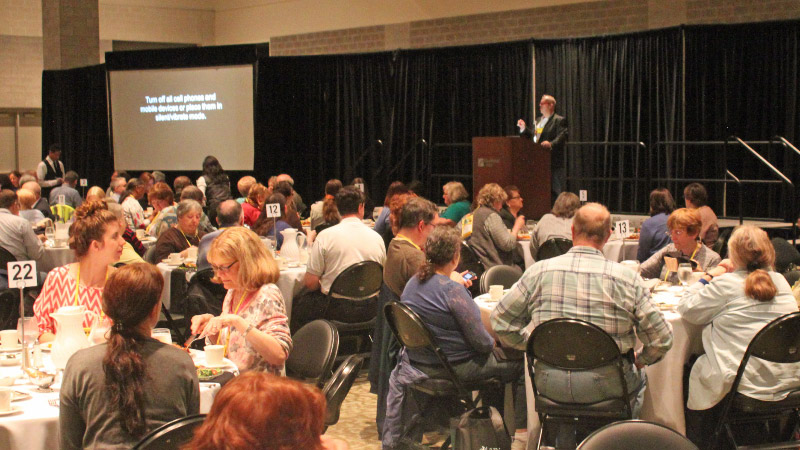 No Outside Food
Please note that outside food and drinks are not allowed into the MassMutual Center. That is the venue's rule and we expect it will be enforced by security on entering the conference center.
But We Got You Covered
There is no need to go hungry at NERGC, since we have arranged to have lunch catered on Wednesday May 3rd, and both lunch and dinner catered Thursday through Saturday, May 4th through 6th.
There may also be a snack bar in the Exhibit Hall, but we don't control that and cannot guarantee it.
Meals are Extra and there is a Deadline
The catered meals are not included in the price of your conference admissions. They must be purchased at an additional charge. The deadline for adding a meal to your conference registration is April 15th. To add a meal simply go through the registration system again, using the same email address you used in your original order, and pick your meals. Don't add your conference admissions ticket again. Only add the new things that you want to order, like meals, a printed syllabus, etc.
Who Can Order a Meal?
Obviously conference attendees can order a meal and eat at NERGC 2023. But so can exhibitors from the Exhibit Hall, volunteers, etc. We don't want you to go hungry. And at the banquets, feel free to bring a spouse or significant other.
Meal Etiquette
Many of the meals will have some concurrent programming, like a speaker, or a planned activity like Table Topics. If you are not able to participate in the program or stay for the entire duration, we ask that you pick a table near the door and eat and exit quietly, to minimize the disruption.
Do You Have Detailed Menu Descriptions?
We're still months out from the conference, and the exact details of the dishes are subject to change. But this is how things were described to us:
Wednesday Box Lunch

Choice of still or sparking water, choice of chips, choice of cookie, choice of salad, and one of the following sandwiches:
Smoked salami, capicola, smoked Provolone cheese, roasted peppers, pickled red onions, red wine aioli on ciabatta
Shaved turkey, Swiss cheese, baby greens with sweet grain mustard aioli, caramelized onions on marble rye
Roasted asparagus, artichokes, red peppers, olives, sautéed couscous with red onion and hummus in a tomato wrap

Thursday Luncheon, an Italian Buffet with the following selections:

Classic Caesar salad, garlic croutons and shaved Parmesan cheese
Grilled chicken breast with roasted artichokes, peppers, and fresh mozzarella in a yellow tomato sauce
Rigatoni pasta with peas, yellow tomatoes and asparagus in sundried tomato cream sauce with goat cheese, and lemon truffle green beans
Garlic bread
Tiramisu cups and dessert bars

Thursday Box Supper is designed to be portable, so folks attending the Society Fair and the SIGs can "grab and go" with it. If you are not participating in these events, this might be a good night to eat out in Springfield.

The "Basic Box" includes Whole Fruit, Bag of Chips, Dessert and Bottled Water, and one of the following sandwiches:
Turkey and Provolone
Roast beef and Cheddar
Seasonal vegetable with hummus or pesto

Friday Luncheon will be a served salad (chicken or vegetarian), to accommodate Table Topics.

Includes ice water, rolls & butter, dessert, coffee/decaf/assorted teas.

Friday's Banquet will include:

Choice of meat or vegetable lasagna
Salad greens
Dessert
Ice water, coffee/decaf coffee/assorted teas is included. A cash bar will also be available.

Saturday's Luncheon features the "Mass Mutual Combo," being your choice of sandwich from:

Roast beef, Boursin cheese, caramelized onions, lettuce and tomato
Smoked turkey, Brie cheese, basil blueberry compote and spring mix
Fresh Mozzarella, Tomato and Basil Pesto with Balsamic Reduction Roasted Vegetables, Hummus and Spinach
Also, a soup (t.b.d), a salad (t.b.d), kettle chips, assorted cookie and brownie display, and assorted cold beverages

Saturday's Banquet will include:

Choice of seared chicken breast or stuffed haddock
House salad, chef select starch & vegetable, ice water, rolls & butter, dessert, coffee/decaf coffee/assorted teas
Cash bar will also be available
Dietary Restrictions
All meals have a vegetarian option. If you have special dietary needs, allergies, etc. that go beyond that, there will be a place to note this in your order. You can also send an email to [email protected] with your questions.